Selecting the right commercial floor for your business
The importance of flooring cannot be underestimated in any new commercial project, but it is too often overlooked. Just as there are key considerations in choosing industrial flooring, so commercial flooring must accommodate traffic volume and type, use of space, and any environmental needs or restrictions. In some cases, special finishes, designs and budget restrictions will need to be factored into the choice.  
The key to commercial flooring is not just functionality. The aesthetic appeal and finish are also important. Especially in customer-facing environments, commercial flooring must incorporate trends in order to remain current. Floors come in a variety of finishes, from resin or recycled to polished concrete or acid-stained, but what is in vogue today may be outdated tomorrow. For this reason, many architects and designers choose a long-lasting and high-performance floor type that is nevertheless flexible aesthetically. PMMA resin flooring, in particular, can be adapted and modified to incorporate new colours, logos or branding.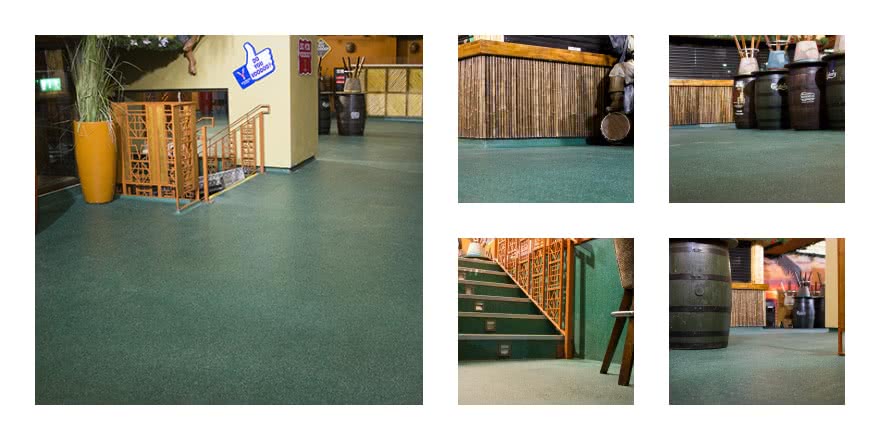 A full-colour palette
Few commercial businesses operate independently from their brand's colour palette and visual identity. Likewise, customers expect a familiar atmosphere and mood in certain commercial sectors. As a result, commercial operators need the flexibility to adapt to the colour of their flooring.  
A light colour floor can help make a space brighter and appear larger. Light reflectivity can increase ambient light by 30%, making a location more inviting for consumers. A bold coloured floor can have a strong impact in a commercial space, for example in a retail shop or night club.  
PMMA resin flooring offers the greatest flexibility in colour. It allows designers to personalise a space by choosing a brand colour either for the entire floor or as accents throughout a building. 
Accent on design
Gone are the days when commercial flooring was grey, uniform and quite frankly drab. Today's commercial flooring systems permit a range of design options, from discreet to flashy to functional. Flooring can be used to define different zones within a commercial space, to lead customers through separate sections, or to distinguish one retailer from another in a shared commercial space.  
Directional designs, whether subtle guides or specific arrows, can help visitors move along an intended route. In specific built-for-purpose commercial spaces, designed commercial flooring can be an essential part of the business, such as road markings laid into the floor of a go-karting facility. 
Branding
Some commercial flooring, such as PMMA resin floors, can have specialised graphics embedded directly into the floor. This allows a retailer to incorporate their logo or other visual cues throughout the location, from the entrance to other areas.  
Any image can be integrated into a PMMA commercial floor, including logos, custom graphics, artwork and even photography, offering designers greater options than ever before for customising a commercial space.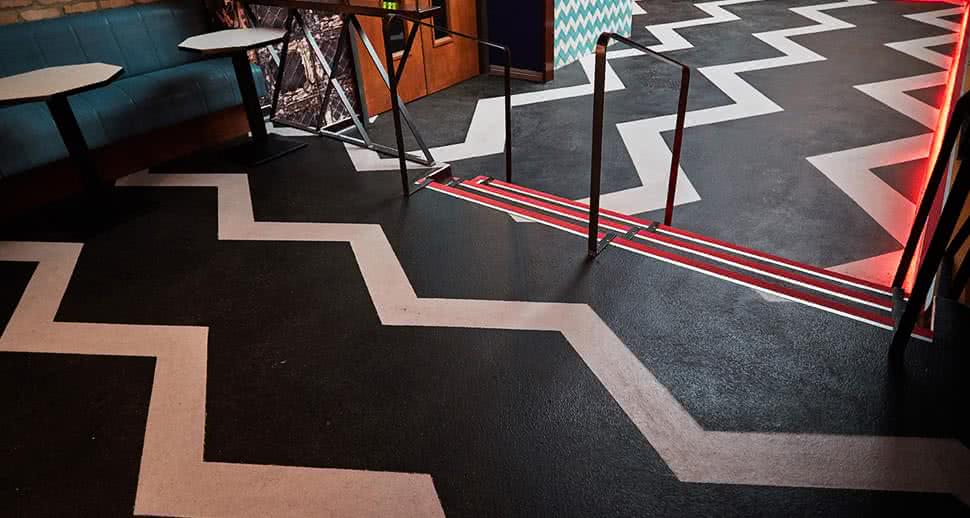 Stand out with a pattern
While the floor should never be the focus of attention in a commercial location, it can make a vital contribution to creating a subconscious feeling of wellbeing and focus in the customer. Commercial resin floors can be designed with subtle, bold and unique patterns. PMMA commercial floors can have one-colour or mixed quartz surfaces, standard flake patterns, mixed flake patterns or bi-coloured flakes that create a distinctly textured look. 
Designers and architects can choose from standard mixes or custom blends that reflect the brand identity more faithfully. Commercial flooring suppliers can also install resin floors according to a preset pattern, such as checkerboard or stripes, and highly capable suppliers can even work with designers to transform a floor design into an optical illusion using PMMA resin. 
Safety first
Colour, pattern and design are important aesthetic features, but safety is also an important aspect of any commercial floor. Wet conditions call for an anti-skid coating to protect customers and employees. PMMA commercial floors offer an enhanced level of safety with an anti-skid surface which can be tailored to the area and its use. 
In the commercial sector, anti-skid surfaces are often found in nightclubs and supermarkets, where the risk of a slip due to spilt liquid opens up the prospect of expensive litigation.  
Final Finishes
A specialised coating can be applied to prepare a commercial flooring for a specific purpose. This could be to limit damage from heavy vehicle traffic or footfall or to prevent corrosion from water or chemicals. Likewise, a flexible floor finish can minimise the damage from nicks or scratches, either from high heels or dropped utensils.  
PMMA floor incorporates a unique inter-layer chemical bond that is easy to repair or refurbish without having to tear up the entire floor.  
Finally, if cleanliness is highly important for space, commercial floors that are non-porous and seamless in their construction are available. 
Whatever the planned use of commercial space may be, PMMA resin flooring is an excellent, high-performing way to complete the design. Offering incredible durability, performance and flexibility throughout its industry-leading lifespan, PMMA commercial flooring has the fastest installation time and easiest repair protocol of any resin flooring, which helps to minimise downtime for installation and maintenance and keep commercial spaces open for business. 
If you'd like more information about PMMA resin commercial flooring, contact the experts at Floortech® today. We can help you explore options for colour, design, finish and more, and decide which commercial flooring system is right for your project. 
Request a Quote
Please provide as much detail as possible about your specific needs & a member of our UK team will be in touch.

We do not install domestic flooring.